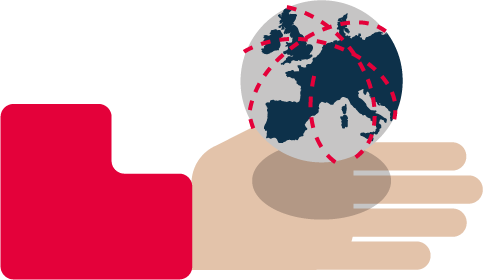 1.1. General information
We maintain a professional collections process and focus on the relationships between you and your debtors at all times. Our team of collections specialists carry out the collections process in-house. We contact debtors both verbally and in writing whilst adhering to federal and state laws.
When there is a dispute, we aim to reach an amicable solution between you and your debtor. We do this by analysing all the contractual documents (e.g. signed contracts, orders, confirmations, invoices, delivery notes, as well as all standard terms previously agreed upon). All of our investigations are completed with the assistance and agreement of our legal team.
1.2. Local agents
Currently, we do not offer field service to visit debtors in Germany. However, if debtors wish to visit our premises, we will gladly arrange face-to-face meetings to discuss the situations.
1.3. Interest
We always charge interest to debtors. It's calculated from the base rate set by the German national bank plus 9% on a daily basis (see the European Directive 2011/35/CEE Article 3 in conjunction with paragraph 288, section 2 of the German Civil Code). When you have to pay higher interest to your bank, we are able to ask for a higher rate. However, this rate needs to be confirmed by the bank in writing in case any legal action needs to be initiated.
From a cultural point of view, German debtors are used to paying late payment charges, although the actual amount of interest payment is considered a matter of negotiation between debtors and collectors.
1.4. Debt collections costs
In Germany, under the German Civil Code paragraph 280, sections 2 and 3, and paragraph 286, debt collections costs are chargeable to debtors, representing the creditors' claims for late payment. If you have a special contractual agreement, this can be taken into account as long as the debtor has previously agreed to the terms.
From a cultural point of view, German debtors are used to paying debt collections costs, though often the actual amount of these costs is considered a matter of negotiation. We will forward all the recovered debt collections costs to you to reduce the claim, retain the costs, or add them to our success fees. This will depend on the contractual agreement between you and Atradius Collections.
1.5. Prescription
The general prescription period in Germany is three years, starting at the end of the year a claim becomes due under paragraph 195 in combination with paragraph 199, section 1 of the German Civil Code. Transport claims prescribe within one year, starting from the delivery under the Convention on the contract for the international carriage of goods by road (CMR) of Geneva.
The limitation period is suspended or recommenced under German Civil Law paragraph 203ff.:
If negotiations are in progress between you and your debtor over a claim or the circumstances founding the claim, until one of the parties refuses to continue the negotiations
In the case of the right to refuse performance
In the case of force majeure
Under special circumstances, the debtor (the obligor) acknowledges the claim towards you (the obligee) by partial payment, payment of interest, provision of security, or a judicial or official act of execution is undertaken or applied for in any other way
1.6. Accepted and most common payment methods
The most common payment method is bank transfers. Cheque payments are possible. We also accept bankers' drafts, although these are very rare in Germany. We neither offer direct booking off of debtors' accounts nor accept cash payment.
1.7. Types of companies
Sole trader / Sole proprietorship
("Einzelunternehmen")
Unlimited liability of the owner with their business and private funds
In order to pursue such a debtor, we need the first name and surname of the debtor
Civil law partnership
("Gesellschaft bürgerlichen Rechts"
or GbR)
No minimum capital
Unlimited liability of the partners
Usually non-commercial or small-business activities
General partnership
("offene Handelsgesellschaft" or OHG)
No minimum capital
Unlimited liability of the partners
Limited partnership
("Kommanditgesellschaft" or KG)
No minimum capital
At least one of the partners is liable with their business and private funds
The limited partners are only liable with the company's capital
Professional (service) partnership
("Partnergesellschaft" or PartG)
No minimum capital
The partners have to be independent professionals (e.g. lawyers, doctors, architects)
Entrepreneurial company with limited
liability ("Unternehmergesellschaft"
or UG)
No minimum capital. However, 25% of yearly earnings must be accumulated until EUR 25,000 is reached
Liability is limited to the company's capital
Company with limited liability
("Gesellschaft mit beschränkter
Haftung" or GmbH)
A minimum capital of EUR 25,000 in the form of cash and also assets such as cars or company equipment
The partners are only liable with the company's capital
Company on shares
("Aktiengesellschaft" or AG)
A minimum capital of EUR 50,000 divided into shares
Liability is limited to the company's capital
1.8. Sources of information
In Germany, we contact credit-reporting agencies to assess the financial situations of debtors, including their real estate and other enforceable assets. We combine this with our own phone contacts to get accurate impressions of the debtors' financial situations and advise on the next steps.
It depends on the legal forms of the debtors whether we are also able to request information from public registers. All traders have to be registered at the Municipal Trade office. Obtaining information from this office triggers an administrative fee, which varies from town to town. All companies with limited liability have to register with the trade register at a competent court, which can be accessed online. We have direct access and can obtain any additional information on shareholders, historical developments, and balance sheets published there.
Debtors with unknown addresses can be traced via the Registration of Address office. Private persons are legally obliged to officially deregister when moving from one town to another and to re-register in the new town. Occasionally, some debtors do not follow this procedure and cannot be traced, despite this being a punishable offence. Same as the case with the Municipal Trade office, the cost of information from the Registration of Address office varies from town to town. In order to trace a non-registered debtor or in the case of potential fraud, we may engage the services of private investigators from an experienced agency with whom we contract.
(End of chapter 1 - Amicable collections)
Opt in to our latest publications*
and get the

Debt Collections Handbook - Global

for free
*We will only use your data in accordance with our Privacy Statement. You can unsubscribe at any time.